Sunday, March 19
Lenten Reader Contributions
Because of reduced Internet time, I invited people to submit things to be posted--so that people visiting this blog would still have something to read.
Here are the contributions sent in so far:
Catholic Youth Concert


"Several laity and priests are bringing in an ALL DAY CATHOLIC YOUTH CONCERT in Michigan City at the Marquette Catholic High School, August 19th."
Read More!
Seminarians Today
This guy
followed five seminarians through one year of seminary, to tell the story of priesthood and the calling to religious life in a way that this story hasn't been told before.
On a different note, the Episcopal Church is struggling to find young men to become priests, married or not
. They ordain about 25 a year, nationally.*
*Go out of your way and meet an real Anglo-Catholic today. The more I meet, the more I like them. And feel bad for the condition of their ecclesial community.

Vatican Ski Team!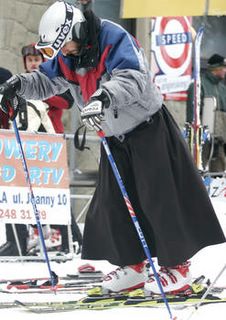 Granted, it was a while back...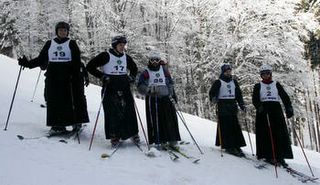 But did you hear about the Vatican Ski Team's performance at Turin???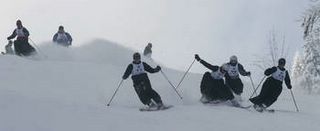 Well... That might be why...
(Actually, it was a recent competition in Poland. Thanks to Nancy, who sent them in. Photos courtesy PAP/Andrzej Grygiel.)
Really, almost too true to be Funny



Kathleen fears American schism
.
You call yourself Catholic...
But you don't even know what the brand new cycle of Papal Audiences is about???
Reader Michael Barber, a PhD student at Fuller,
rectifies your sad ignorance
.